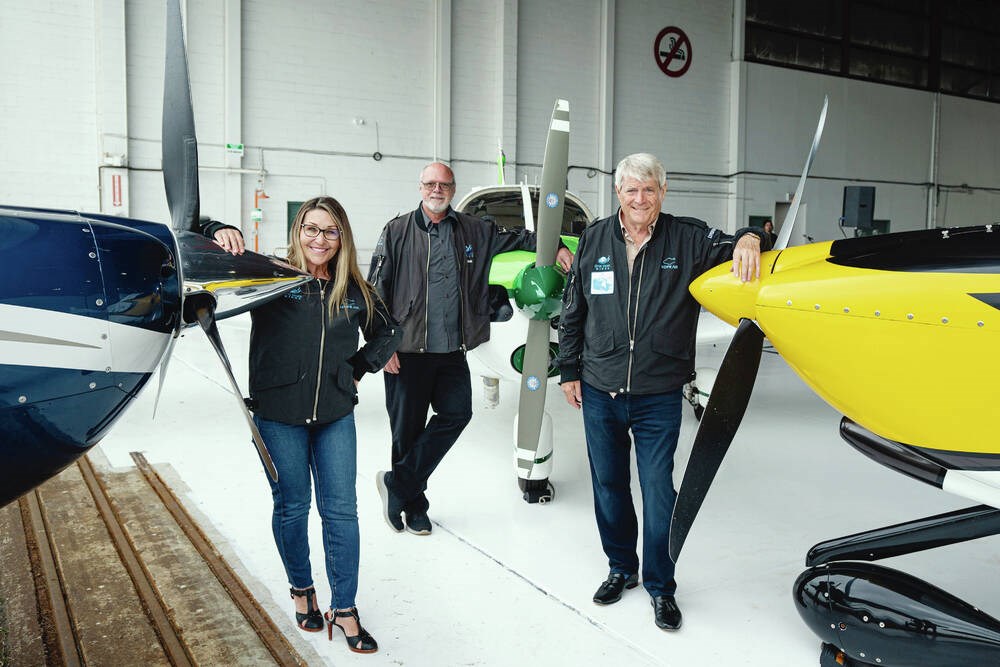 Our Community: Fly for Hope Air, Shrimp and Fiddle Festival
Flight for Hope Air – and patients in faraway places Volunteer pilots will take to the air on Monday for the launch of this year's Give Hope Wings Expedition, a three-week expedition to raise awareness and funds for Hope Air,
Taking flight for Hope Air – and patients in faraway places
Volunteer pilots will take off on Monday to kick off this year's Give Hope Wings Expedition, a three-week expedition to raise awareness and funds for Hope Air, which provides travel and accommodation assistance for Canadians in need of medical care away from home.
The expedition will feature up to 30 pilots performing a series of multi-aircraft flights that will cover 5,100 nautical miles coast to coast from Victoria to St. Johns, Newfoundland.
Hope Air provides free airfare, ground transportation and accommodations to people living in remote communities who face financial barriers when they have to travel to remote urban centers to get to medical appointments for a treatment.
It says the free flights it offers to ease the stress of patients traveling long distances by car or train are sometimes through donations from airline partners and volunteer pilots, but 70% of the time through direct donations.
To date, the organization, founded in 1986 as the Mission Air Transportation Network, has funded 160,000 flights, including 70,000 in British Columbia.
This is the event's sixth year, but the first time it has been born in Victoria.
The group hopes to raise $1 million, enough to fund 2,800 flights, accommodations and meals. Learn more about fundraising at hopeair.ca/GHW2022. To learn more about Hope Air, visit hopeair.ca.
Shrimp and fiddle festival supports rugby program
The James Bay Athletic Association is hosting Spot Prawn and Fiddle Fest, a rugby fundraising event for local youth, on June 12 at MacDonald Park in James Bay.
The family event will include an onsite prawn meal, Irish, Celtic and West Coast Métis fiddling, a youth rugby exhibition game, vendors and family activities.
Violin virtuoso Daniel Lapp curates a range of fiddle performances by many West Coast legends.
"People are in for a feast of ears as well as bellies at this inaugural festival, the first of its kind in Victoria," Lapp said. "There is a range of fiddle and dance styles from coast to coast and Victoria's first fiddle competition in recent memory."
In addition to the on-site shrimp shelling and eating area, there will be several local food vendors and artisans, with permitted and unauthorized areas.
There will also be various rugby exhibits, including a Try Rookie Rugby area for kids aged 5-13, a skills area and obstacle course where you can win prizes, plus rugby 7s matches For the young.
Proceeds from the drinks garden and vendor registrations will go towards establishing a Rugby Youth Development Officer position at the club, with an eye to the future growth of all existing schemes.
Free entry. The event runs from 10 a.m. to 6 p.m. on June 12 at MacDonald Park, 212 Niagara Street.
Soup is back in Sydney
Neighbors Lunch, a long-running weekly soup kitchen offered by St. Andrew's Anglican Church in Sidney, is set to reopen after a two-year hiatus due to the COVID-19 pandemic.
Neighbors Lunch has served 97,000 bowls of soup and countless rolls since its inception in 2004. In recent years, nearly 90 guests have turned up for a hot bowl of soup each week and returned for a turkey dinner at Christmas.
The soup kitchen is supported by donations, the Town of Sidney and rolls from the Peninsula Co-op.
There is no charge for the meal. Customers are asked to wear a mask except when seated and eating.
Neighbors Luncheon runs from 11 a.m. to 12:45 p.m. every Wednesday starting June 8 at St. Andrew's Anglican Church Hall, 9691 Fourth St. in Sidney. For more information, call the church office at 250-656-5322.
Big on small houses
Aryze Developments recently received a special Innovations in Affordability award for its Tiny Homes Village project, which celebrated its first anniversary in May.
The prize, awarded by the Urban Development Institute Award for Excellence, recognizes projects that have had a positive impact on the community and the urban landscape. The jury of peers hailed the uniqueness of the project and its merit of special recognition.
The community of shipping containers converted into 100 square foot living units, housing 30 people, emerged as a quick fix to house some of Victoria's burgeoning homeless population. Many were living in tents in parks or at the entrances to businesses across the city, in part due to temporary shelter capacity restrictions resulting from the COVID-19 pandemic.
The Greater Victoria Coalition to End Homelessness partnered with Aryze Developments on the project. Together, they launched a crowdfunding campaign that raised $550,000 from the public and businesses in three months.
The village, intended to provide transitional housing to break the cycle of homelessness, was assembled on the parking lot of the adjacent Royal Athletic Park, which is owned by the City of Victoria. Two meals a day are delivered to residents, who have access to a common space to heat food, as well as shared showers and toilets. All but three of the initial group of residents who moved in have remained with the program, which has caught the attention of other social agencies in Canada and as far away as Germany, hoping to emulate it.
Double up to help Cool Aid
Help Cool Aid fill specific funding gaps for some of its lesser-known programs at the charity's biggest fundraising event – the Homecoming Matching Challenge.
By June 10, the challenge will double every dollar donated up to $85,000, thanks to Peninsula Co-op, Knappett Projects, Jim Thomson and Kathleen Brandsma, the Stovel Family, Viveka Foundation Fund, TL Housing Solutions, Butler Concrete and Aggregates and Megson Fitzpatrick.
"Those of us who have done well in society need to step up and contribute to the social fabric and I think Cool Aid is an essential part of that," said John Knappett, CEO of Knappett Projects. "We want to make sure everyone in need has access to these vital support services, so I and several other supporters have come together to create this challenge. We hope this will inspire others to donate.
Last year's challenge raised $164,000. The goal this year is $170,000, which will go towards a grocery gift card initiative, job training, and support and programs for seniors.
Each year, Cool Aid provides housing, emergency shelter, health and dental care and other support to over 12,000 people in the capital region.
For more information or to donate, go to coolaid.org/donate.
Help for Ukraine
The Victoria Chinatown Lioness Lionss Club is hosting a paper shredding and refundable bottle drive fundraiser to help Ukraine, at the Fort and Foul Bay Save-On-Foods on June 18.
Prevent identity theft and protect your privacy by shredding your confidential documents.
Suggested donation is $10 per box or equivalent, with immediate shredding. Cash, debit cards, credit cards or company checks are accepted.
Refundable containers of soft drinks, water, alcohol and milk are also accepted.
The event runs from 10 a.m. to 1 p.m. on June 18 in the parking lot of the Fort and Foul Bay Save-On-Foods.
For more information, visit victoriachinatownlionesslionesclub.ca.
Celebrating 14 years of WITS
The WITS Programs Foundation turns 24 this month.
Most local children, many of whom are now adults, have learned exactly what it means to "use your WITS" (walking away, talking about it, ignoring or asking for help) to deal with conflict or victimization.
Still based in Esquimalt and operating as the WITS Programs Foundation for six years, the local nonprofit has become a national success story.
The program is taught in approximately 1,400 Canadian schools, as well as in Belgium, Brazil, Egypt, Korea, New Zealand and the United States.
The initial catalyst and creative mind that made WITS a school program was Tom Woods, a former police officer.
"As School Police Liaisons, we were always looking for positive ways to help children and youth and break down barriers," said Woods, who is still involved as a vice -president of the foundation. "The WITS program was the perfect vehicle to reach the kids and have fun. It was an honor to play a part in this important message and to see the incredible impact it had on hundreds of thousands of children.
He thanks School District 61, local police services, the University of Victoria, the Conseil scolaire francophone de la Colombie-Britannique and others for their support in making WITS and its French component, DIRE, what it is today.
A recently completed revitalization of WITS/DIRE now emphasizes diversity and inclusion. It includes new books, educational videos and information for families in 12 languages, and provides several program elements free of charge to Indigenous communities.
For more information, visit witsprogram.ca.