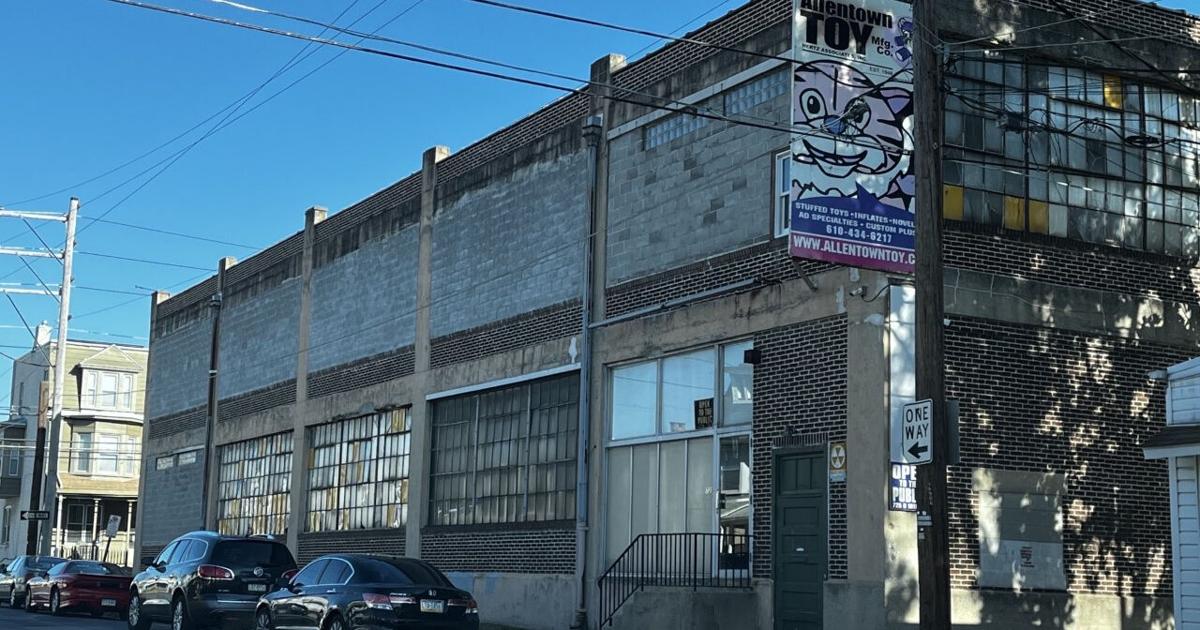 Openings and closings: commercial events in the region | Economic news
From new apartments approved to restaurants reopening and ready to serve, here's your weekly look at what's happening with businesses in your neighborhood.
ALLENTOWN REDEVELOPMENT AUTHORITY: 725 N. 10th St., Allentown
The old Allentown Toy Building could become a center for the community, if the city's redevelopment authority can fund the conversion.
The authority bought the property in April for $400,000 and hopes to deter blight from the town center and provide affordable housing on the site.
The first floor would be a community space, with some offices, and the second floor could become apartments.
The plan could cost up to $2 million, and the authority is exploring grants or other funding for the old toy factory. Get the full story.
***
ANGRY JACK'S: outlets in Wind Creek, Bethlehem
Angry Jack's opened at the Wind Creek Outlets, between the casino and the event center.
The new business has 10 ax throwing lanes and offers coaching. The company organizes corporate and private events, fundraisers and leagues.
Bring your own food, beer, soda water, and wine are allowed in Bethlehem, but hard liquor is not.
***
CONCANNON MILLER: 1525 Valley Center Parkway, Hanover Township
The venerable accounting firm in Lehigh Valley will have a new name effective Nov. 1, when it becomes part of CliftonLawsonAllen, also known as CLA. Concannon Miller shareholder Andrea Brady said the move will help the local business grow.
Concannon Miller has offices in the Lehigh Valley and St. Petersburg, Florida. These offices will operate under the CLA name. CLA is based in Minnesota and is the eighth largest accounting firm in the United States Learn more.
***
GREYSTONE CAPITAL/LOU PEKTOR APARTMENTS: 1493 Van Buren Road, Palmer Township
Developer Lou Pektor's proposal for an industrial building in Palmer Township could turn into an apartment complex. Pektor and the Board of Supervisors discussed zoning changes on Tuesday that would allow residential use of the property.
Pektor and his neighbors said they would prefer apartments to an industrial operation, but the developer's team asked for the review process to be expedited, not helped for years. Pektor's proposal will be discussed again in January. Get all the details.
***
KEYSTONE PROPERTY MANAGEMENT AND MAINTENANCE: 4095 rue Chestnut, Emmaüs
The commercial and residential property management company has opened a new office in Emmaus, offering DIY supplies at discounted prices.
Keystone will also open a property management branch at the Chestnut Street location. The Lehigh Valley Company screens tenants, collects rents, and maintains properties, among other services.
***
MISSION AUTISM CLINICS: 1510 Valley Center Parkway, Hanover Township, and 7350 Tilghman St., Upper Macungie Township
The child and young adult therapy provider is adding two clinics in the Lehigh Valley, after opening a site in Bethlehem in July.
Sarah Finney Miller of commercial real estate firm NAI Summit negotiated the three leases for Mission Autism, which will also add a clinic in Harrisburg for a total of 10 in Pennsylvania.
Mission Autism's therapy is designed to improve skills, address behavioral issues and help children with autism learn to navigate the world around them.
***
RIVER HILL ESTATES: Farmersville Road, Bethlehem Township
Kay Builders' River Hill Estates, a 29-acre development of 44 single-family homes and 36 multi-family units, was approved Monday by the Bethlehem Township Board of Commissioners.
The developer said the new accommodation will have no effect on stormwater issues in the nearby Birchwood area. Read the full story.
***
SO FRESH N SO CLEAN: 750 S. 25th St., Palmer Township
The new laundromat held a grand opening last month. So Fresh N So Clean also provides washing and folding. His hours, as posted on social media, are 6 a.m. to midnight.
***
ULINE: 8449 Congdon Hill Drive, Lower Macungie Township
The distribution company added approximately 1 million square feet to its warehouse empire. The Lower Macungie site is Uline's first location outside of the Midwest.
The company sells shipping and packaging supplies and transports approximately 40,000 different items. Uline is looking to hire at the new warehouse, which will support its Allentown operation. Read more.
***
MAGNOLIA INN & WELLNESS CENTER: 11 Knob Road, Mt. Pocono
The Magnolia Streamside Resort has expanded into the Inn & Wellness Center, with therapy, a cafe and juice bar, and six rooms for lodging.
The center will offer halo salt therapy, colon hydrotherapy, steam room, infrared sauna, cupping and more. The juice cafe's offerings include smoothies, coffee and tea, acai bowls, paninis, and snacks.
***

IGU INC. : 460 N. Gulph Road, King of Prussia
The utility company has divested its UK energy marketing business and continues to review other European operations. UGI has sold AvantiGas ON to British Gas for an undisclosed price.
The gas and electric utility continues to review business in France, Belgium and Germany. AvantiGas ON has supplied natural gas to 13,000 metering points in the UK Learn more.
***
CATCH 22 DINNER: 1102 Route 22 East, Lopatcong Township
The restaurant which suffered a fire a few hours before its scheduled opening in September is back. Owner Tony Arzuaga said his first day back on Tuesday was busy and he was ready for a big weekend. His son Jose is co-owner of the Hispanic-American restaurant.
Cheesesteaks were a big part of the first day, said Tony Arzuaga. He's ready for whatever comes next, including perhaps extending his hours beyond 7 a.m. to 7 p.m. every day.
"Come in," he said. "We are ready. You are coming to Catch 22 as a guest. You are leaving as a family."
Just down the road, the Key City Diner also burned down on September 16. Key City owners are rebuilding but may not reopen until summer 2023. Read the full story.
***
MELT ICE CREAM BAR: 140 S. Main St., Phillipsburg
The downtown Phillipsburg dessert shop says it's looking for a new space in the Easton/Lopatcong/Greenwich area. Melt's social media posts indicate that the property will not be renewing its lease next May.
If Melt doesn't find a new location in time, he will operate from his truck and add a second truck next summer. The ice cream bar also indicates that it will be closed from November 7 to December 30, except for private parties.
***