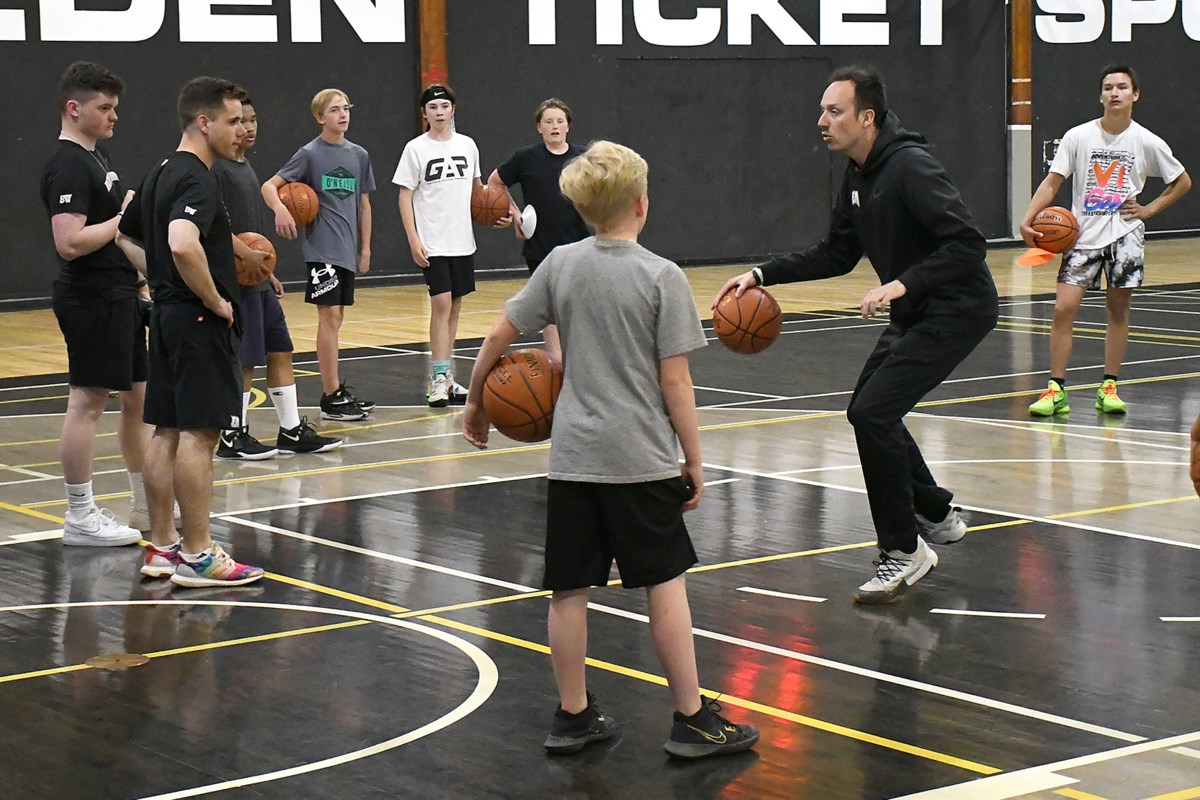 Moose Jaw basketball players have the chance to learn from a European professional coach
Elite Athletes Belgium joined Golden Ticket Sports for a special event on Thursday evening
Local basketball players had a unique opportunity to take elite lessons from one of Europe's top professional coaches at the Golden Ticket Sports Center on Thursday evening.
Elite Athletes Belgium coach and trainer Joerik Michiels stopped by the local facility as part of a cross-Canada tour organized by Golden Ticket owner Tanner Brightman.
Around 30 players in grades 7-12 took part in the event, which saw Michiels lead participants through a range of drills designed to focus on player development.
It all came out of Brightman working with Michiels on a small tour through Saskatchewan in 2019, which saw 17 camps in seven locations over nine days in the province.
This time?
No less than 50 camps in 17 communities, spanning 19 days and involving more than 700 players. It all started June 1 in Fredericton and has been rolling west ever since, stopping in Winnipeg on June 8 before heading to Moose Jaw.
"It was amazing, not just with the kids and the camp itself, but meeting everyone and different cultures and what basketball is about here," Michiels said ahead of the Moose Jaw event. "It's a very different culture compared to Europe, so it's been a great experience on and off the pitch. And having the chance to see Canada too, it's an absolutely beautiful country.
Michiels brings an impressive depth of knowledge to the game, having worked with over 150 professional players and served as an NBA Europe skills coach in the past. He is also an NBA Basketball Without Borders Clinician, part of a program that brings the sport to developing countries.
Brightman had worked with Michiels in Belgium earlier this year, which led to things coming together for the trip to Canada, with Moose Jaw an obvious step.
"We wanted to go to Moose Jaw for sure, not just because we have space, but also to see the community and how good the year has been at the Sports Center," Brightman said. "It was a very good trip, we met a lot of people and were able to pass on a lot of things."
The training session focused on what Michiels calls the Super Six – finishing, shooting, passing, footwork, decision making and creating from the dribble.
"That's what I focus on and that's all player development and skill development," Michiels explained. "It will be teaching them, going over the details, and then lots of small-scale games to put it into practice."
This aspect of training is not always considered as much, which gives Elite Athletes Belgium a unique approach to improving skills.
"We're one of the first to do that, using small-scale games for skill development, and I think one of the reasons is that the culture here doesn't have as many player development coaches. ", Michiels said. "Here it's mostly the head coaches looking at the style of play and the tactics, so you can see it's quite new for everyone. But I think kids really like it.
The tour continues in Regina and Saskatoon before heading to Alberta, stopping in Whitehorse and concluding with visits to Vancouver and Victoria at the end of the month.
It's all part of what Brightman hopes will become a regular occurrence for Golden Ticket Sports now that a well-developed connection has been established.
"Things like this will be a yearly thing, having an international connection like this and being able to go back and forth is an exciting opportunity," Brightman said. "It looks like no one else does and the rule and style of play are quite similar, it's a good fit and something we'll definitely be interested in going forward."