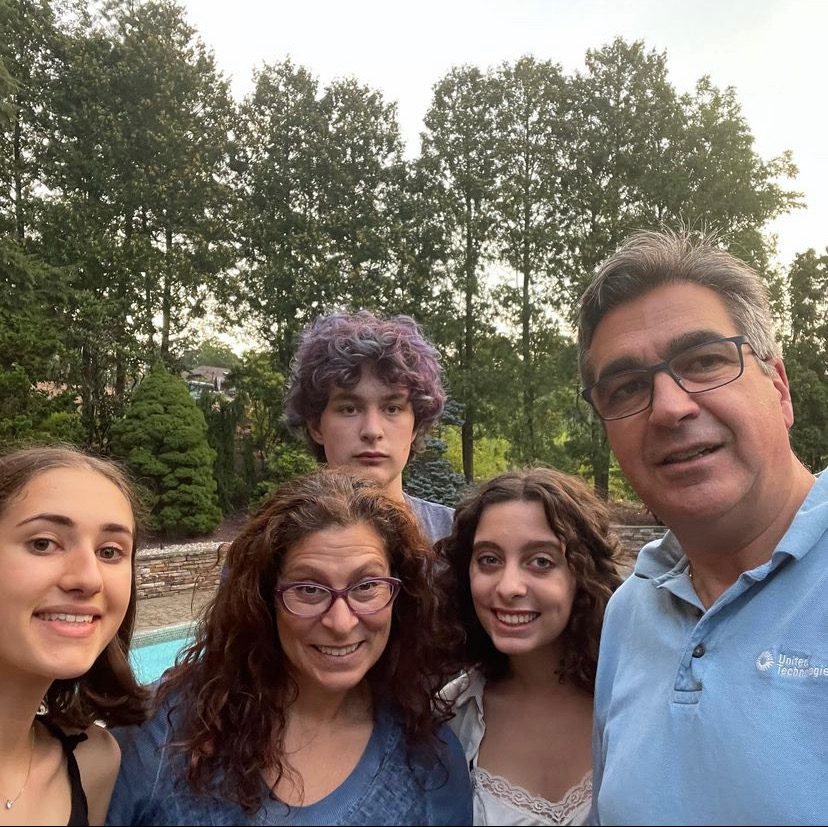 Meet AFS students from West Hartford: Amira Amri from Germany – We-Ha
[ad_1]
This is the first article in our series this year, "Opening Our Homes and Minds: West Hartford AFS International Students and Their Host Families".
Interviewed and edited by Jamie Cohen, AFS foster mother and volunteer (now), foster sister (1980s) and returnee from Japan (1984)
Meet Amira Amri of Kiel, Germany. She is one of five AFS exchange students living in West Hartford this school year and one of 24 staying in Connecticut.
Hi Amira! Tell us about you.
I'm 16, a junior at Conard this year. I come from Kiel, the capital of the state of Schleswig-Holstein, in northern Germany on the Baltic Sea. I grew up with my mother – without brothers or sisters – in an apartment close to the city center. I studied theater for many years and did a lot of sports in Germany. I came here because I won a CBYX-PPP scholarship by the German government, and I am one of 50 CBYX students in the United States with AFS. I live with an amazing host family and have a host brother in Conard. My host sister is currently studying abroad with AFS in Belgium. (I'm really glad I got to meet her before she left.)
Why did you want to be an AFS exchange student?
I have always been fascinated by American films and by discovering new cultures. I wanted to meet new people. In Germany, English was my favorite course and I wanted to improve it and use what I had learned. I wanted to grow up, discover a new side of myself and challenge myself.
What are the biggest cultural differences between Germany and here?
Driving is definitely more important here. I find it really difficult to be independent without a car here, but in Germany I am really independent because we have public transport everywhere. I can take a bus or a train anywhere. The school is also very different. Compared to my school in Germany, I can choose my courses here! It's exciting for me to study new things and things that I choose. I also see my teachers here every day, so it builds a better relationship with them. I don't have to wait a week to ask my teacher for something. And I also really appreciate the diversity here at Conard. There are so many more different religions and people from different backgrounds here than at my school in Germany – and it's really interesting to learn from each other. Since coming to the United States, I have also come to appreciate the free German health care system and almost free education. It allows everyone to have equal access to health care and education.
What did you like about Connecticut and West Hartford?
I am very grateful to live in West Hartford. Connecticut has a very good school system, especially compared to the United States. The community here is really nice and I feel like everyone is really welcoming and caring about my culture as well. It feels very safe and feels like home now. And so far, I really love fall in New England! The reservoir in the fall is magnificent!
What are you doing outside of school here?
In the fall, I discovered a new passion – running on the cross country team! I met some amazing girls on the team and really enjoyed being part of the school team. (We do not have school sponsored team sports in Germany). I'm also doing 10 minute pieces now and I'm going to try the musical in Conard. And I think I'll be doing track and field in the spring.
What would you like people reading this to know:
Germany: Germany is a big country with a lot of history. People of my generation are really open-minded. In the North, we have the sea, and in the South, we have mountains. We have beautiful chateaux, lots of great food to try Рespecially fish and breads / pastries in the north where I live. You can take amazing bike trips in Germany and you must try the local breweries on your trip. And if you go to my favorite city, Hamburg, you have to take a boat trip and also try fischbr̦chen.
Host an AFS exchange student: Accommodation is very important for your family to gain international understanding. I think the host family also learns the culture from their student. I am grateful that a family wants to host me and allow me to live my dream. I love that they show me what they love to do and that I can learn so much from them. Sharing is caring, as they say!
To be an AFS exchange student: I think American students should definitely study abroad. You should trade because when you do, you become a better version of yourself. You learn new skills, respect new people, say "YES" to things you never thought you would say yes to! It's not just about learning a new language. It opens new doors.
About AFS:
AFS-USA, a non-profit organization, has been a leader in international student exchanges for over 70 years. Its mission is to enhance the global skills of American citizens by providing intercultural learning experiences to individuals, families, communities and schools through a global partnership of volunteers. Each year, AFS-USA awards more than $ 3 million in scholarships and financial aid to American students who wish to study abroad, and maintains a network of more than 4,000 American volunteers who support educators, students and participating families across the country.
If you would like to host an exchange student, or if your high school student would like to participate in an AFS exchange, please contact Jamie Cohen at [email protected] or visit afsUSA.org.
Do you like what you see here? Click here to subscribe to the We-Ha newsletter so you'll always be up to date with what's going on in West Hartford! VSclick the blue button below to become a supporter of We-Ha.com and our efforts to continue to produce quality journalism.
[ad_2]