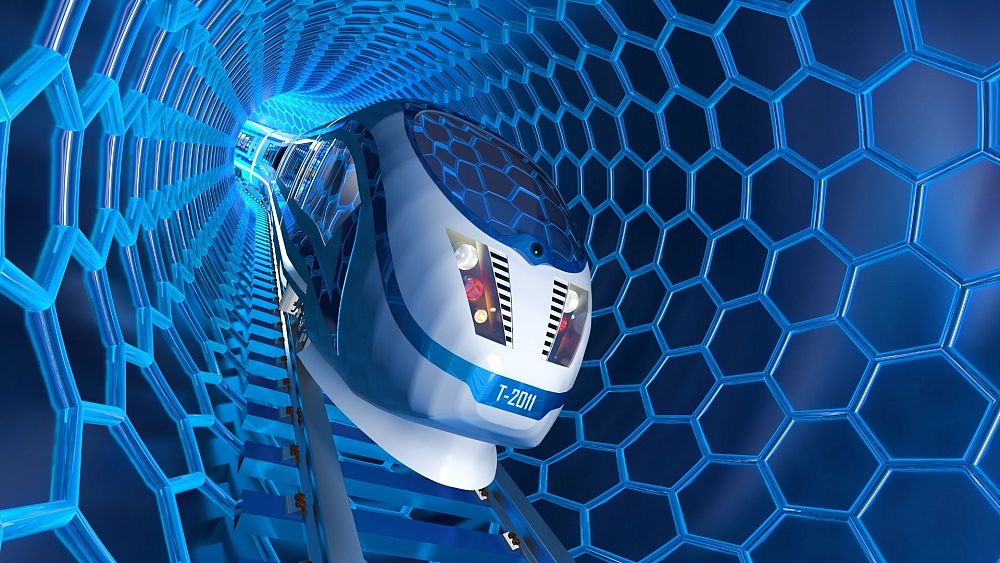 Hyperloops and sleeper trains: the technology that makes rail travel in Europe more accessible than ever
Train travel in Europe is in demand again, there is no doubt about it.
Flights across the continent are relatively short no matter where you are going, which leaves many people wondering if they would be better – environmentally and financially – to travel by train.
COVID-19 has also inevitably played a role in our decisions. So much so that the European Commission has declared 2021 as Year of the rail to celebrate people who explore by train.
Traditional railways recognize the need to take advantage of this speed. from France impending ban on flights under 2 hours spawned plans to re-embrace innovative domestic travel between locations like Nice and Paris. Routes that until recently were considered deadweight compared to cheap flight options.
That said, it's the new startups and tech that are leading the way in reimagining what it means travel through Europe by train.
Luxury sleeper cars, fast magnetic tracks and new mobile apps are all on the horizon in an exciting time for mainland railways.
Night cars on the model of Parisian luxury with the startup Midnight Trains
Midnight trains is a travel start-up based in Paris, built on the principle of luxury overnight train travel, but respectful of the environment.
Long-haul train travel emissions are twenty times lower than your average commercial flight – so why not make green travel stylish?
Boutique-style bed suites will honor privacy and security, and food and drink selections should be modeled after Michelin-starred restaurants.
You cannot book them yet. Midnight Trains does not plan to launch until 2024 from its hub at Paris Gare du Nord.
It will offer trips of 800 km to 1,500 km, departing from Rome, Porto and Copenhagen. A final list of destinations will be confirmed once the company concludes the car rental agreements.
"At the moment, there is no other alternative for medium-distance travel than flights or a bad night train. And the only way to compete with planes is to reinvent the train experience, "explains co-founder Adrien Aumont, who also founded the French crowdfunding platform. KissKissBank.
The company is currently posting newsletter updates on developments and you can find it here.
Nevomo super-fast magnetic tracks
This original idea from researchers at the Warsaw University of Technology is now presented as the answer to reducing travel times. Instead of 6 hours to travel from Gdańsk to Krakow, it only takes 35 minutes.
From 2023 trains on Nevomo (formerly the crowd-funded hyperloop of Hyper Poland) will be able to travel at a speed of 415 km per hour. In addition, no new runways need to be built as the model builds on the existing infrastructure with the added magnetic technology, known by experts as "magrail". It is hailed as the "future" of our public transport.
A scale model of the system was first shown in 2019. It has generated enough momentum to raise the money to create a three-stage plan that will result in trains reaching 1,200 km / h at over the next ten years.
Find out more about Nevomo's plans for Polish rail head here.
Travel in a stylish and inexpensive sleeper with Nightjet
Created in 2016 during a lull in the interrail industry in Europe, Night jet connects Austria, Belgium, Germany, the Netherlands, Switzerland and Italy with its vast fleet of sleeper trains.
There is no cheaper, more ecological way to visit your favorite European cities at night.
Guests can book overnight train stays in a personal suite or in padded bunk beds that can accommodate 4-6 travelers each. A complimentary breakfast is served on board, as well as a 24/7 menu of other chargeable dishes and drinks.
Its new fleet, landing in 2022, will incorporate an even more modern design, individual sanitary suites for standard rooms, temperature control by touch screen and free Wi-Fi whatever the duration of your trip.
Prices start between € 49 and € 59 for a bunk, € 89 for a bed in a twin cabin or € 129 for a suite just for yourself. Cheaper than a stay in many hostels across Europe, and you can easily get from point A to point B. Families wishing to book a stacked compartment for 4 to 6 people pay a flat rate of € 199.
To book your next overnight trip head here.
Easier travel and disability-friendly travel apps developed by Transreport
There is still a lot of work to be done on accessibility in rail transport. Many aspects of European rail systems do not meet the needs of people with disabilities due to social and physical barriers.
British startup Trans-report have developed two applications with information from disabled passengers that allow them to note areas for improvement and awareness in their travels.
The first application, Passenger Assistance, was designed as the benchmark for those who need assistance such as ramps and visual aids during their journey. All of this can be requested on your phone with a minimum of fuss and the information is then passed on to the railroad providers.
Usually, the person traveling would have to contact each railway company individually to communicate their needs. The unnecessarily complicated process often deters people from traveling in the first place as it can be time consuming and uncomfortable.
Users of the second app, named after the company, may notice things like broken equipment, lighting and flooring that may have made their trip more difficult than it should be, even if they don't need any human help to navigate. their trip.
This is a big step in pushing companies to understand the barriers that can deter people with disabilities from using the railroad and give them more choice when it comes to travel arrangements.
To manage here for more information, as well as download links to each application.
Transcontinental facility designed by European Sleeper
Launched in April 2022, European Sleeper will carry passengers across Belgium, the Netherlands, Germany and the Czech Republic and will operate three times a week.
If demand increases, operators plan to make travel a daily part of the European rail landscape.
It is the arrival of the morning in Brussels that is probably targeted to types of companies but the overall goal remains the same – low cost, simple and comfortable train travel.
The company believes there is a growing need for better train travel in the wake of COVID-19 – its shares were sold in 15 minutes, raising € 500,000 from an assortment of different financiers who want to see thrive Europe's interconnectivity.
For more information head here.
Futuristic electronic travel solutions from Italian hybrid pioneers Crain
This ultra-technological railway innovation is probably the most advanced, but still an exciting prospect.
Italian tech start-up Crain Mobility merges the worlds of e-mobility and public transport with proposals for a system of trains large enough to load and transport electric cars. The idea has been in development for two years and has generated a lot of enthusiasm from the European transport community.
Crain plans to take underutilized freight stations on the outskirts of some of Europe's biggest cities and turn them into dedicated terminals where driverless cars board the train and park like you would on a ferry. .
From there, enjoy the journey with onboard restaurants and rotating seats inside each vehicle that make work or play easy. It was built on the principle of making the roads safer and cleaner without completely ignoring the need for cars in certain situations.
You can find more information about Crain here.