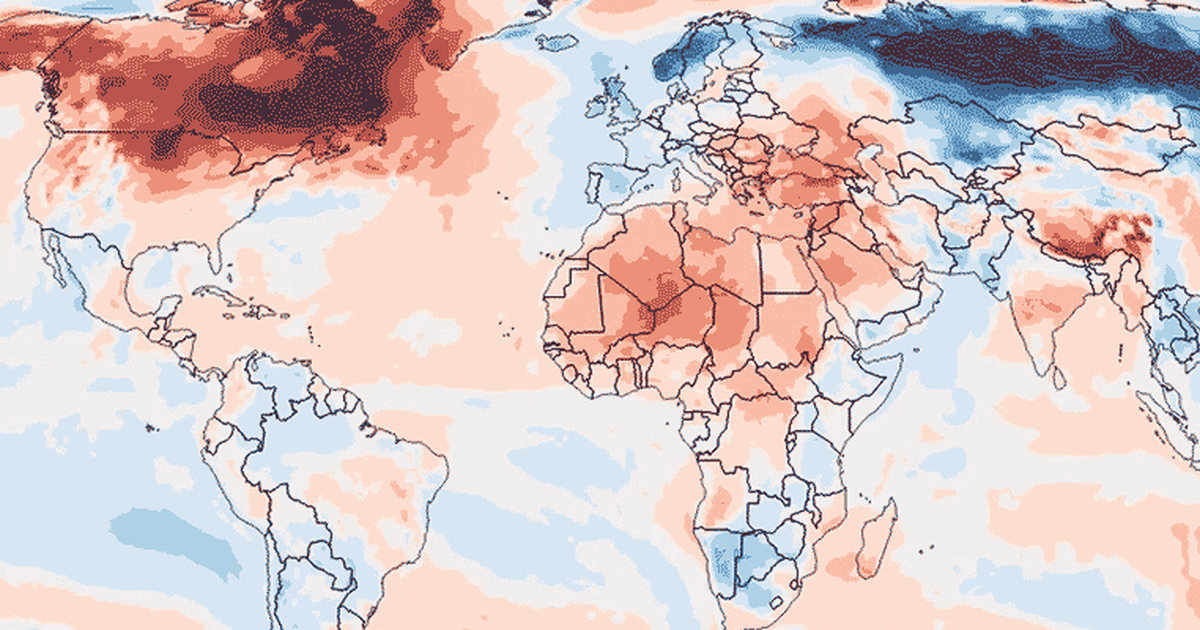 How 2021's high heat led to catastrophic weather
In 2021, as Europe recorded its hottest summer, June weather anomalies in North America were so large that the continent recorded its hottest June in 171 years, according to the January Copernicus report.
The record heat was even more notable, scientists said, given that 2021 was a La Niña year, in which climate patterns in the Pacific Ocean produce cooler temperatures across the globe.
An August 2021 report by the United Nations' International Panel on Climate Change concluded that human-caused climate change "already affects many extreme weather and climate events in all regions of the world."
Otto, who helped write the report, said last year's weather events proved 2021 was "a year that made the evidence inevitable".
Scientists say damaging spring frosts – like the one that destroyed winegrowers' crops in France last April – are an example of a more likely weather event in a warming world.
Denis Lesgourgues, co-owner of Château Haut Selve, a vineyard in southwestern France, lost 60% of his harvest during last year's spring frost. The warmer winters caused the vine to sprout earlier in the year, leaving them vulnerable to the first spring frosts that were previously harmless. Lesgourgues said that now if the buds are out when the frosts hit, they die and are unable to grow grapes.
"When I was growing up, I remember the buds starting to open in April or May," Lesgourgues said, "but now it's starting to happen in March and even late February."
In other parts of the world, rising heat can become a matter of life and death. In Portland, the June heat wave sent temperatures up to 116 degrees, shattering heat records of up to 9 degrees Fahrenheit (5 degrees Celsius) and killing hundreds of people in the area.
"There was a feeling that we were in the Pacific Northwest – it never really gets cold, it never really gets hot," said Golino de Lovato, executive director of the Northwest Pilot Project, an aid organization to housing for the elderly headquartered in Portland. "We don't have to worry about being ready to react to extreme weather conditions because they will never hit us."
Heat waves are particularly dangerous for vulnerable populations, including people without air conditioning or housing.
Jennifer Coon has experienced it. Coon, of Portland, said she remembers not being able to find relief or even lie down during heat waves when she was living on the streets.
"Inside a tent, it's often even warmer because of the way the plastic layers and tarps retain heat," said Coon, who is now a peer support specialist at Blanchet House. in Portland, an organization that helps the city's homeless population.
Malnutrition and substance abuse prevalent in the homeless community, she added, make people more susceptible to dehydration in hot weather.
Robert Vautard, director of the French climate research group Institut Pierre-Simon Laplace, said aggressive, record-breaking heat waves are more likely in a warming world.
"You expect records to be broken by a degree [Celsius], and exceptionally, two degrees, but five is absolutely incredible from a meteorological point of view," said Vautard, another author of the UN climate study in August. "This event would have been absolutely or extremely unlikely without climate change."