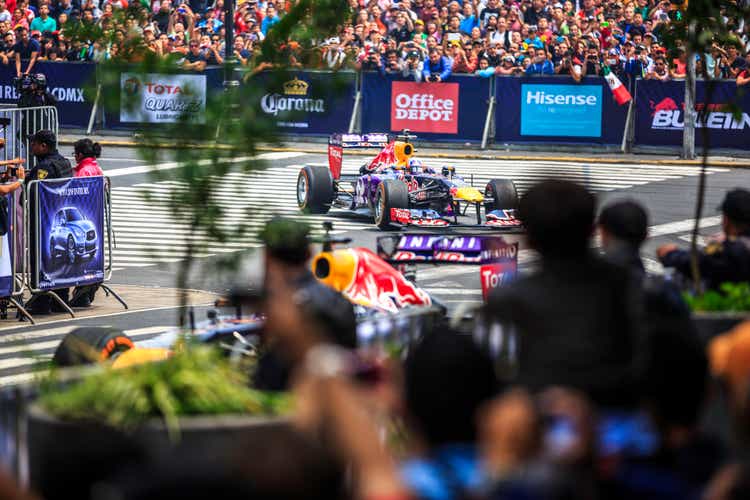 Formula 1 action: great entertainment but a costly asset (NASDAQ:FWONA)
Investment thesis
Liberty Media succeeded in reinventing Formula 1 (NASDAQ:FWONK), (NASDAQ: FWONA) as an engaging content package. Fan base and engagement grows, generating revenue and leads. Nevertheless, the financial results are weak and do not justify the assets current price.
Note: Throughout this text I only use the FWONK ticker for readability, but it can also apply to FWONA. When FWONK is used, I mean business. When Formula 1 is used, I mean the sport or the league.
The Liberty Group has been working on revamping the Formula 1 business since its acquisition in 2017. The strategic direction is directly linked to increasing engagement in markets where penetration was low and creating a more entertaining experience for both live audiences, TV and social media. media enthusiasts. In terms of internationalization, the championship has 22 events. Of these, Bahrain, Saudi Arabia, Azerbaijan, Singapore, Abu Dhabi, Qatar (2023) and China (2023) emphasize growth markets in the East. Moreover, after some controversy, Miami's debut was a success in 2022, Las Vegas will make its first appearance in 2023, and the United States will complete three races, improving attention in a market where Formula 1 was inexpressive. On the other hand, the league has just announced the failure of negotiations with South Africa, granting a place to the traditional circuit of Spa-Francorchamps in Belgium. In general, the organization of such type of event has become a source of contention between cities, as in the case of the renewal of the Brazilian GP between Sao Paulo and Rio de Janeiro, increasing the ticket for FWONK.
Another important priority relates to increasing fan engagement based on developing greater rivalry, impacting key brands and improving the experience. In 2021, the tournament has been boosted by the strong dispute between Hamilton and Verstappen, the introduction of different formats such as sprint races (growing interest in the whole weekend event) and increased competition in medium-sized teams. On top of that, the Formula 1 experience includes iconic brands like Ferrari, Mercedes and Aston Martin, among others. Audi has just announced that it will join the show.
My thesis in content-generating businesses is this: The real competition is in creating a product that's interesting enough for people to spend some of their scarce free time on. A winning content experience, in these terms, is one in which a large number of people decide to spend, frequently, a few hours consuming it, instead of any of the many entertainment products available today. The changes implemented by FWONK have effectively sparked interest and engagement in the sport. GP attendance is at an all-time high, TV viewership has soared to 1.55 billion (4% YoY increase) and social media engagement has also increased with particular emphasis on the F1 application and the F1 TV subscription.
Before continuing, a disclaimer: you are not buying regular stocks
Investors should be aware that FWONK and FWONA are not ordinary shares. These securities are called tracking stocks and represent a business unit within a legal entity. Thus, these titles are not linked to a separate legal entity, including its assets, which belong to the Liberty Media legal entity.
Liberty Media has separated its operations into three business segments: Sirius SM (LSXMA) (LSXMB), Formula 1 and the Braves (BATRA) (OTCQB: BATRB). By owning FWONK or FWONA, investors have the right to receive complaints about the financial performance of that company. Assets linked to FWONK and FWONA include Formula 1, Drone Racing League and Meyer Shank Racing, among some more disconnected assets, such as Tastemade.
Business Performance
Despite the strong operational performance, FWONK's financial results are lagging. While on the one hand the company was heavily impacted by the COVID pandemic when the RoE bottomed out, as shown in Figure 1, negative returns have been recorded since 2018. The most important in this situation is related to the margin. The company works with relevant operating leverage because almost all expenses are quasi-fixed. From 2017 to 2021, the annual rate of change in general expenses, depreciation and financial expenses, combined, was less than 2%. In this way, the operation became too sensitive to increases in turnover, which had taken place but not at the level necessary to stabilize margins on a healthy level. On Seeking Alpha, the company received a C rating for profitability.
Another important point raised in Figure 1 is related to the level of indebtedness. Prior to the pandemic, FWONK had announced a leverage target which was to be reviewed in 2020 as racing was suspended. At the end of 2021, the initial target was recovered as the debt was reduced from US$3.5 billion to US$2.9 billion during the year. This point embeds a value issue for investors: more cash must be used to further reduce leverage, or the quasi-fixed nature of finance costs will continue to put pressure on margins, or further dilution of capital will be necessary.
Corporate sustainability
The potential cash pressure can be assessed in Figure 2. The company was unable to generate positive Free-Cash-Flow during the pandemic-affected years and a slight reversal can be expected for 2022. Again, the focus on revenue increases to dilute expenses, increase margins and improve operating cash is crucial going forward.
In terms of Altman Z-Score, the aforementioned reduction in leverage has improved the financial position of the operation, and the outlook related to the going concern situation is positive.
Assessment model
My evaluation model consists of a Monte Carlo simulation with one thousand turns on the FCFF model, where inputs are set for centrality and dispersion. The advantage of this methodology is related to the treatment of the fair price as a probability distribution under normal conditions. Therefore, the probability by which the fair value is greater than the current price of the price generated by the dividend discount model (if any) can be calculated.
Most important assumptions used:
6% growth in Nova Scotia. This assumption takes into account the increase from pre-pandemic levels and indications of increased viewership/attendance. 2% standard deviation to allow for more aggressive growth
Gross margin, SG&A and amortization of 34%, 9% and 16% respectively with low volatility, representing a slight improvement as revenues increase
Beta of 1.0. In line with FWONK projections and also taking into account the comparison with peers, such as WWE (WWE), Live Nation (LYV) or the Braves.
Fair value of asset
The fair value of FWONK is $34.88. In addition, the probability that the fair value will exceed the current price is negligible. The company does not pay dividends, so the return is made up exclusively of the price return. Faster than expected increases in revenue and cash flow would be key to unlocking higher value prospects.
Investors may view FWONK as a sell, despite recent improvements in the deal. It may also be important to track future revenue increases, as if abnormal growth is likely to occur, the dilutive effect on operating leverage may mean that results and cash generation will react quickly.