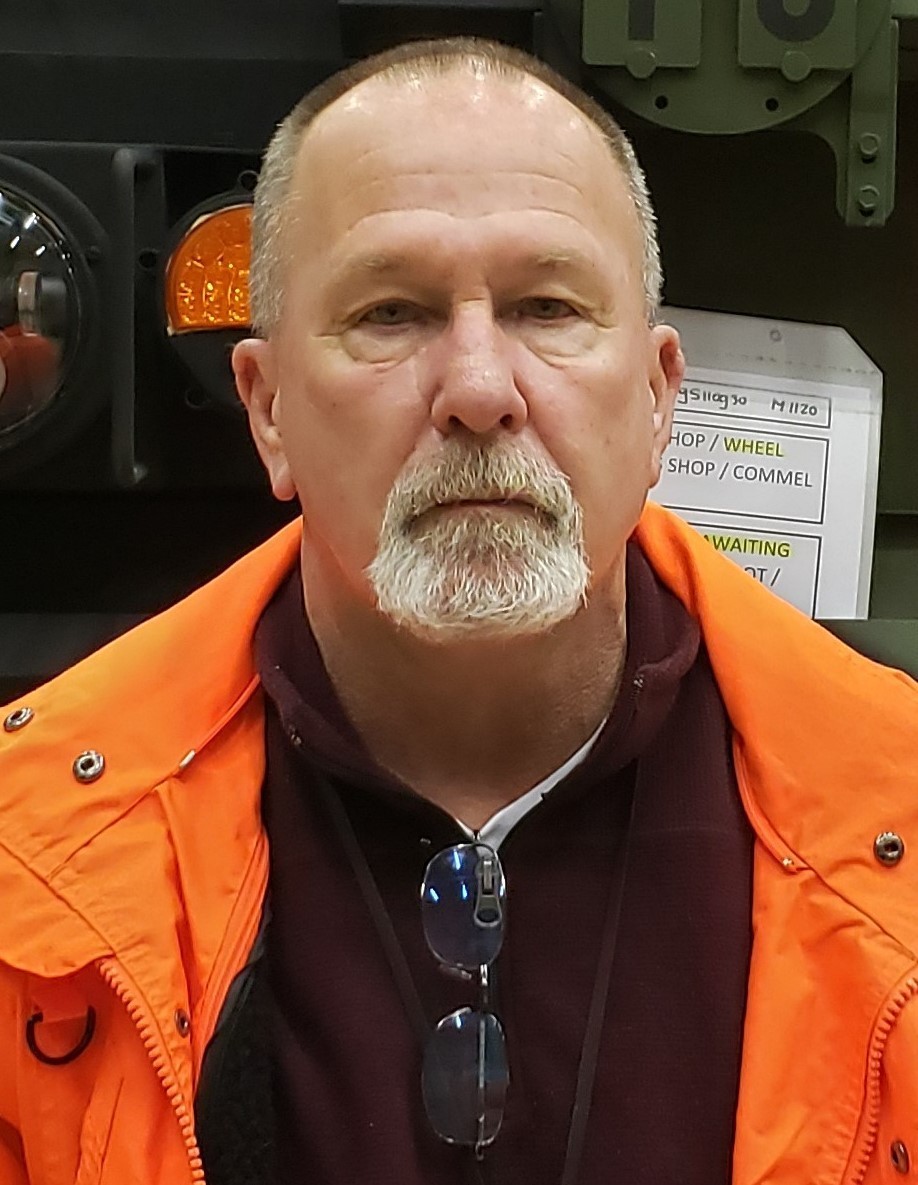 Director of AFSBn-Benelux Maintenance supervises the Dutch Ministry of Defense team in Eygelshoven | Item
Last name: mike stoval
Job title: maintenance manager
Awarded: Army Field Support Battalion – Benelux, 405th Army Field Support Brigade
Site: Army prepositioned Stock-2 yard in Eygelshoven, Netherlands
Experience: I have been here at the Eygelshoven APS-2 yard for about three years. I was a quality assurance inspector until last December when I accepted a job offer to be maintenance manager. Prior to being posted to AFSBn-Benelux, I was at the 405th AFSB Headquarters in Kaiserslautern, Germany as a Maintenance Officer in the Support Operations Directorate for 2.5 years. Prior to that, I was at Fort Hood, Texas for seven years, where I was a Readiness Logistics Support Representative, directing pre-deployment training equipment for the 407th Field Support Brigade of the army. I was also LAR with the 405th AFSB.
Other service: I served 22 years in the military as a heavy equipment mechanic and supervisor and retired as a staff sergeant. My last position was NCO in charge of the site and senior NCO of the quality assurance section at the Luxembourg Combat Equipment Battalion, which was a former APS-2 site. I was the last out the door in September 2006 when it closed.
Hometown: Kempner, TX
Q: Can you explain what you do and what you are responsible for at AFSBn-Benelux?
A: I am responsible for supervising the host nation maintenance personnel, all of whom are employees of the Dutch Ministry of Defence. We have over 5,000 vehicles and pieces of equipment at APS-2 Eygelshoven that we are responsible for maintaining. We perform repairs, perform services, troubleshoot system issues, and ensure that all equipment and vehicles remain at proper 10/20 standards in accordance with technical manuals and Army maintenance standards. We work on everything – generators, tracked vehicles and heavy engineering equipment, and we do it all – brakes, wheel bearings, engines, transmissions, electrical, heating and air conditioning systems and much more. Every two years we do a semi-annual service – top to bottom – where we remove all hubs, bearings and brakes and check them, repack and reassemble them. In general, we ensure that everything on this equipment works as it should.
Q: Why the work of your team at Eygelshoven APS-2 shipyard so important?
A: The Department of the Army and U.S. European Command expect all of these vehicles and equipment to be ready to open the door at a moment's notice in support of exercises, contingency operations, and other assignments. My maintenance team has an obligation to ensure that all of these vehicles and pieces of equipment are ready to go.
Q: What do you like about your job and what motivates you?
A: I immediately started missing the military when I retired from active duty, and it kept me up to date while supporting the soldiers. When I was a preparation LAR, I was deployed to Kuwait, Iraq and Afghanistan. I slept in the same tents as the soldiers I supported and wore a uniform, just like them. I'm still part of the biggest team in the army, I still support the soldiers, and I still support the mission of the army. I really like what I do. That's what I've done all my life.
AFSBn-Benelux and the 405th AFSB: Based in Eygelshoven, the Netherlands, AFSBn-Benelux is responsible for providing and coordinating the receipt, transfer, storage and maintenance of the APS-2 in Eygelshoven and Zutendaal, Belgium, to enable commanders to conduct unified action and a full range of military operations in support of US Army Africa and Europe and joint forces. The 405th AFSB is assigned to the US Army Sustainment Command and under the operational control of the 21st Theater Sustainment Command, US Army Europe and Africa. The brigade is headquartered in Kaiserslautern, Germany, and provides material support to U.S. forces throughout Europe and Africa – providing theater support logistics; synchronize acquisition, logistics and technology; and leveraging AMC's materiel business to support joint forces. For more information on the 405th AFSB, visit the official website at www.afsbeurope.army.mil and the official Facebook site at www.facebook.com/405thAFSB.