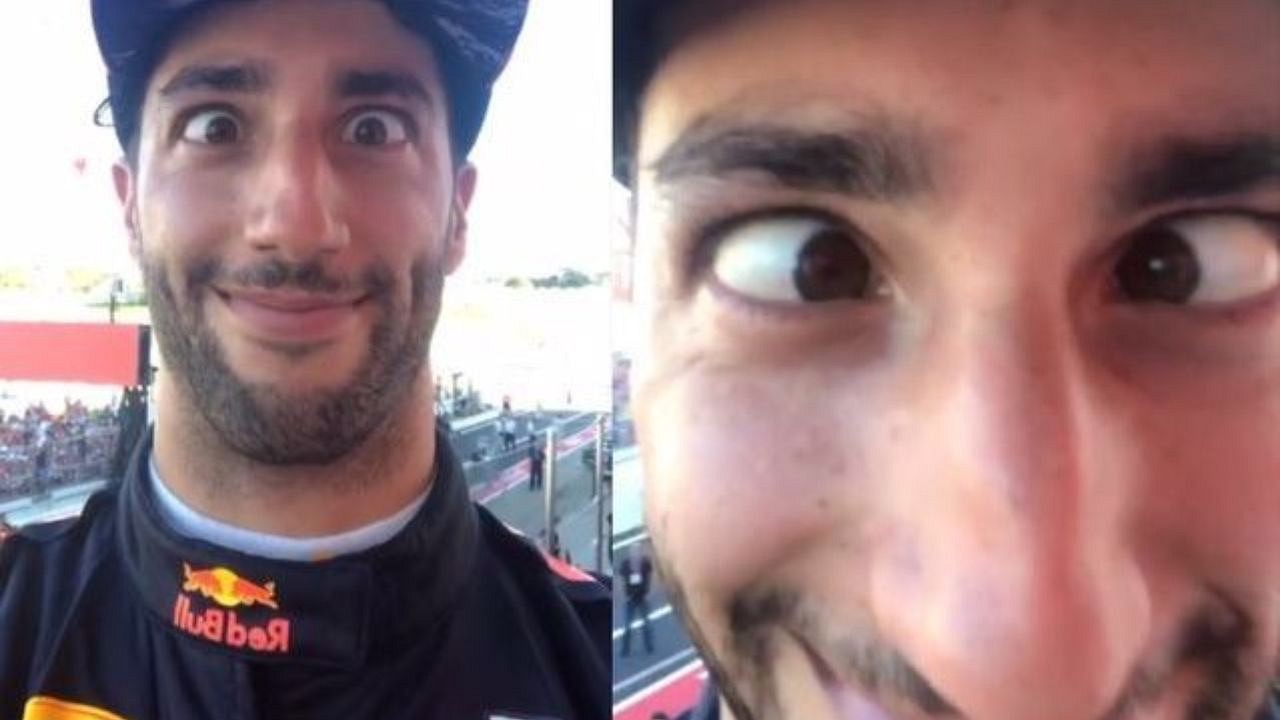 'Carlos Sainz just shows him the middle finger!' – When Daniel Ricciardo hijacked Mercedes' Instagram story ahead of Brazilian GP
Daniel Ricciardo became the unlikely 'administrator' of Mercedes' Instagram account ahead of the 2018 Brazilian GP.
Ricciardo is one of F1's most likable figures and is hugely popular due to his fun nature. He indulges in numerous jokes with other F1 drivers, and sometimes even with members of rival teams.
One such incident happened during the 2018 Brazilian GP in Sao Paulo. Before each race, the drivers parade around the circuit, greeting the fans and thanking them for their presence. The Mercedes admin was recording an Instagram story for his parade debrief.
When @danielricciardo steal your phone…

Still. 😂😂😂#BrazilGP 🇧🇷 #F1 pic.twitter.com/210mFhaZ40

— Mercedes-AMG PETRONAS F1 Team (@MercedesAMGF1) November 11, 2018
That was before Ricciardo, who was at Red Bull at the time, took the phone away from him. Ricciardo immediately started laughing and pointed the camera at Marcus Ericsson and Fernando Alonso.
"We stole Mercedes' account I believe," said the Australian. "They would like to have a beauty like this." Ricciardo then pointed the camera at the fans in the stands, before naming them all as Daniel Ricciardo fans.
Read also : "Lewis Hamilton sells New York penthouse for $50 million without even moving in' – Inside the Mercedes star's impressive real estate empire
Fernando Alonso offered himself an internship after the hijacking of Daniel Ricciardo
Another driver who joined in the fun was Alonso. The two-time world champion who was then a McLaren driver also took over the account and started talking about "Alonso fans" in the crowd.
"Here we are in Spain in front of all the Spanish fans," joked the former Ferrari driver. Afterwards, Alonso pointed the camera at his teammate Stoffel Vandoorne, saying: "Now we're moving on to Belgium!"
Riccardo then picks up Alonso's phone and points it at Mercedes' Valtteri Bottas who just smiles at the Red Bull driver the whole time. The most interesting and hilarious interaction was with Carlos Sainz who was at Renault at the time.
The Spaniard first smiled at Ricciardo, before dropping his middle finger on him, causing the others to burst into laughter. After the show stories were over, the next video showed Mercedes offering Alonso an internship on their social media team!
"Hey guys, sorry that wasn't planned," Mercedes' Paul Ripke said. "Hey Fernando, I guess you're free next year, except for Indianapolis. I need an intern. Can you use a camera? »
Also read: 'Show a little more respect for Sebastian Vettel' – When Lewis Hamilton defended his rival Ferrari on social media after the 2018 Japanese GP