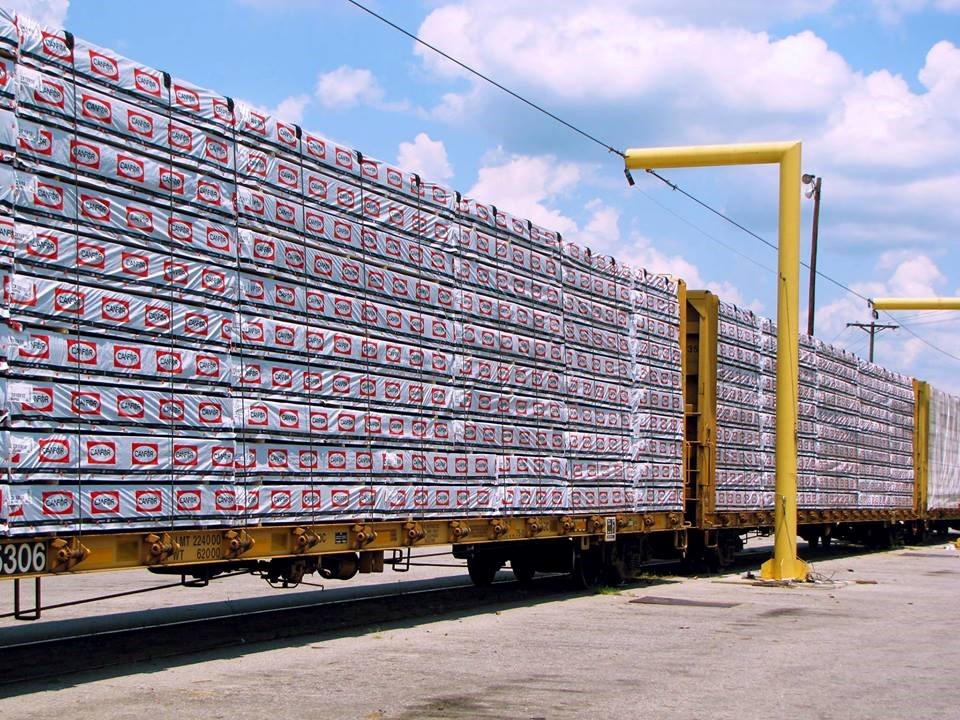 Canfor and West Fraser report strong first quarters
Difficulties getting products from Western Canada operations to market appear to have had little impact on Canfor Corp's results. and West Fraser Timber Co. Ltd. during the first quarter of this year.
Canfor on Tuesday reported net income of $534 million or $4.29 per share, compared with $427.8 million in the same period last year.
West Fraser last week reported earnings of US$1.09 billion for the quarter, or US$10.25 per share, compared to US$334 million or US$3.13 per share for the first quarter of 2021.
North American lumber prices hit near-record highs and strong earnings from the company's European lumber operations were credited for the bottom line at Canfor.
"We are very pleased to see continued strength in global lumber markets continuing into 2022 and, while our pulp business continued to face challenges, we also saw improved results in during the quarter," CEO Don Kayne said in a press release.
"Strong operating performance across all of our lumber operating regions has allowed us to capitalize on these favorable market fundamentals and execute on our diversification strategy with the recent acquisition of Millar Western.
"Despite these factors, the global supply chain crisis continues to negatively impact our operations and has resulted in shortened and reduced operating hours for wood and pulp. We will continue to assess the effects of this crisis and make adjustments to our operating hours as conditions change. .
"We greatly appreciate the continued resilience of our employees in managing supply chain challenges."
On March 1, Canfor announced that it had completed the purchase of Alberta-based Millar Western Assets, adding two sawmills in Whitecourt and Fox Creek and Spruceland Millworks in Acheson.
Conversely, production at its Western Canadian lumber and pulp operations was curtailed due to transportation issues caused by a "global supply chain crisis".
Canfor Pulp Products Inc. lost $19.9 million on sales of $219.7 million due to ongoing transportation issues and pulp supply disruptions. That compares to a net loss of $101.1 million on $249.3 million in revenue in the fourth quarter and a profit of $8.4 million on $262.4 million in revenue in the first quarter of the 2021 financial year.
A $30 million rebuild of the recovery boiler lower furnace at the Northwood pulp mill was completed in mid-April.
Looking ahead, Canfor expects lumber and pulp to remain strong through the second quarter, "supported by lean home inventory, aging housing stock and high levels of owners' net worth.
"As the year progresses, however, new home construction activity is expected to face increased headwinds from high inflation, rising interest rates and falling housing affordability. Demand in the repair and renovation sector is expected to soften somewhat, primarily due to inflationary cost pressures and competing uses for discretionary spending."
In addition, one of three production lines at its Plateau sawmill in Vanderhoof will be closed at the end of the second quarter, at the cost of approximately 70 jobs and 150 million board feet of dimension lumber.
On the pulp side, US dollar prices are expected to reach near-record highs, but so is "intermittent and limited rail service."
West Fraser CEO Ray Ferris made comments similar to Kayne's.
"Despite a number of ongoing challenges, we posted strong results in the first quarter of 2022," he said in a press release issued Thursday.
"We continued to manage significant transportation challenges and resulting mill disruptions that began late last year in British Columbia and were exacerbated in the first quarter by typical transportation issues. by Canadian winters. These short-term constraints on North American supply have been offset by continued strong demand for our products.
"While we continue to monitor rising mortgage rates and the potential risk to demand for new home construction and our wood building products, fundamentals for housing and repair and renovation activity appear supportive.
"I expect our team to continue to be nimble and creative as we overcome our sourcing challenges and the ever-changing demands of our customers."
Canfor has 39 manufacturing plants in North America, including 18 in British Columbia and the United States and three in Alberta. The company also owns 13 forestry operations and nine value-added facilities (packaging and construction) in Sweden.
West Fraser has 65 wood products operations, including 11 in British Columbia, 15 in Alberta, 30 in the United States, three in Scotland, and one in England and one in Belgium.
Conifex, which operates a sawmill and power plant in Mackenzie, will release its first quarter results on Tuesday, May 10.
– with files from The Canadian Press