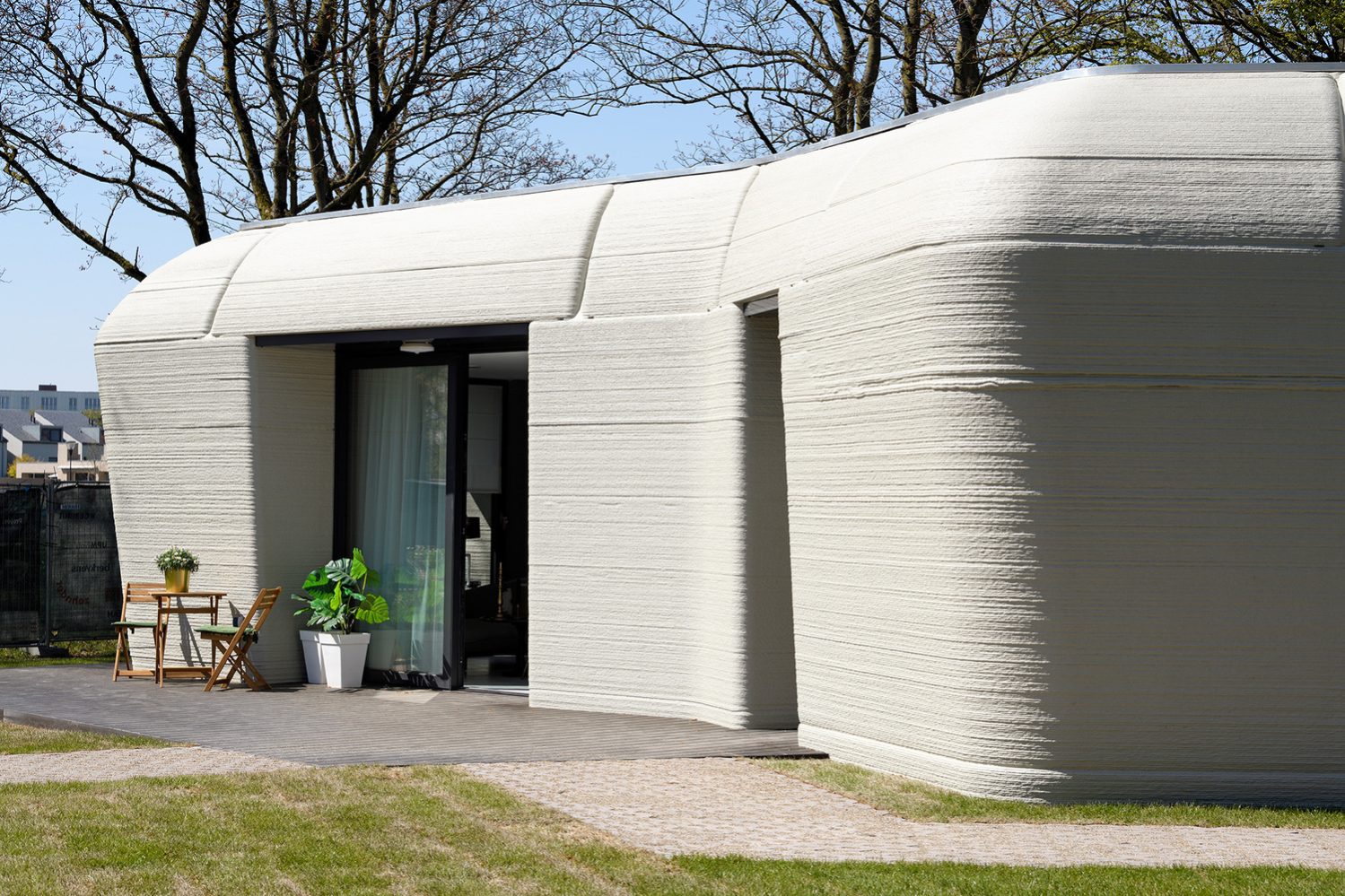 10 best 3D printed houses in the world
The evolution of building materials has been quite a bumpy journey. Throughout history and civilizations, new building materials have made their mark. This transition gave rise to immense possibilities, from the use of hay, tree bark, stone, wood, brick, mortar or glass and steel. Materials have a big influence on the experiential quality of a space. In this process, different materials began to be used in 3D printers. Today we can create 3D printed houses using these technologies. Different materials provide a different range of thermal and acoustic comfort. Materials also vary by region and specific climatic conditions. Variations in construction materials thus reinforce the idea that "change is the only constant".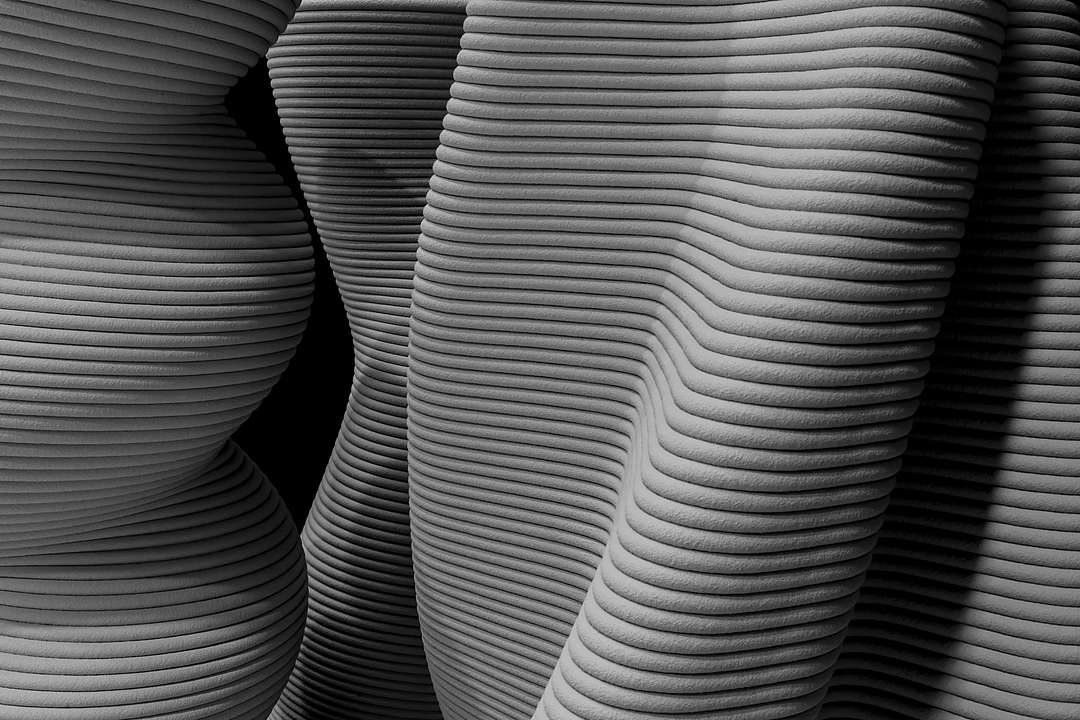 For example, the brick alone has undergone multiple evolutions. It evolved from clay and sand bricks to fly ash bricks, wooden hollow bricks, etc. Thus, the kind of materials is very deep. Additionally, technological innovations have led to unconventional techniques and materials. This not only reduces the environmental impact, but also increases the lifespan and strength of the building. This includes the use of materials such as bamboo, reclaimed wood, recyclable waste, bituminous materials, tempered glass, crumb rubber, etc. Printing houses are the latest and most breathtaking innovation of the current times.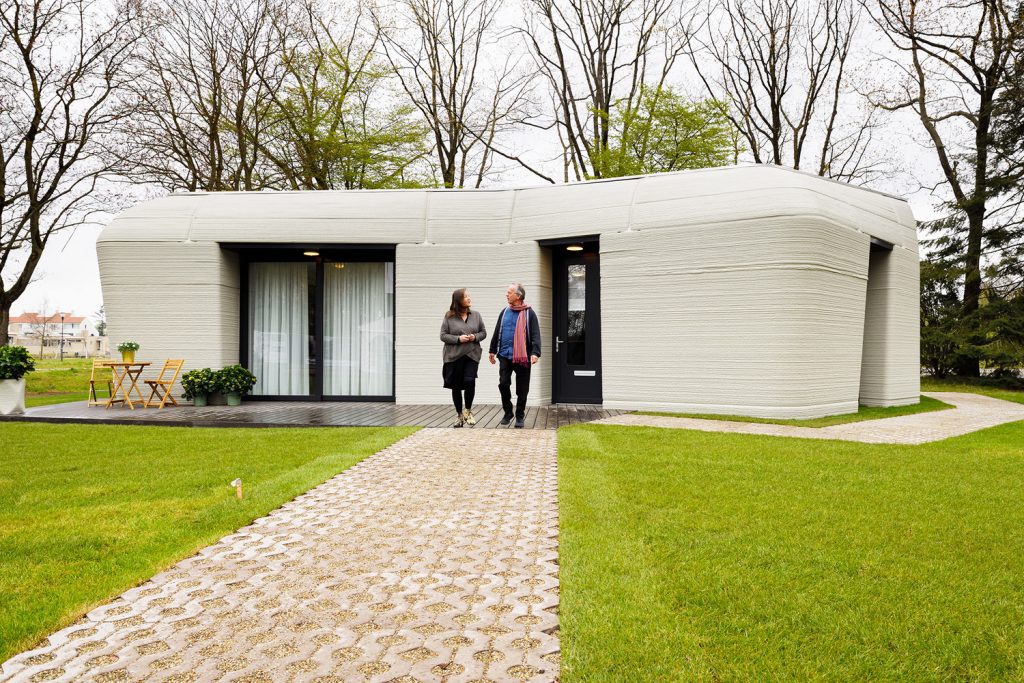 Yes, it is not only a technological marvel in AEC industry but also printing technology. But what made 3D printing a new trend in the AEC industry?
Let's take a look.
How is 3D printing technology developing in the AEC industry?
A construction 3D printer uses a machine that builds houses by stacking building materials. This type of construction is called "Construction 4.0". In this technique, a pasty material is ejected through a tube. This includes materials like concrete or earth stacked in layers, creating a spatial volume.
This technology saves time, effort and material compared to traditional construction methods. But, 3D printing limited to printing walls and frames. Later, systems such as windows, plumbing, etc. are installed conventionally. Despite these limitations, the technology is gaining momentum due to the minimal time required by the technology. This eliminates the time spent placing deep foundations, concrete settings, and other time-consuming methods involved in traditional constructions.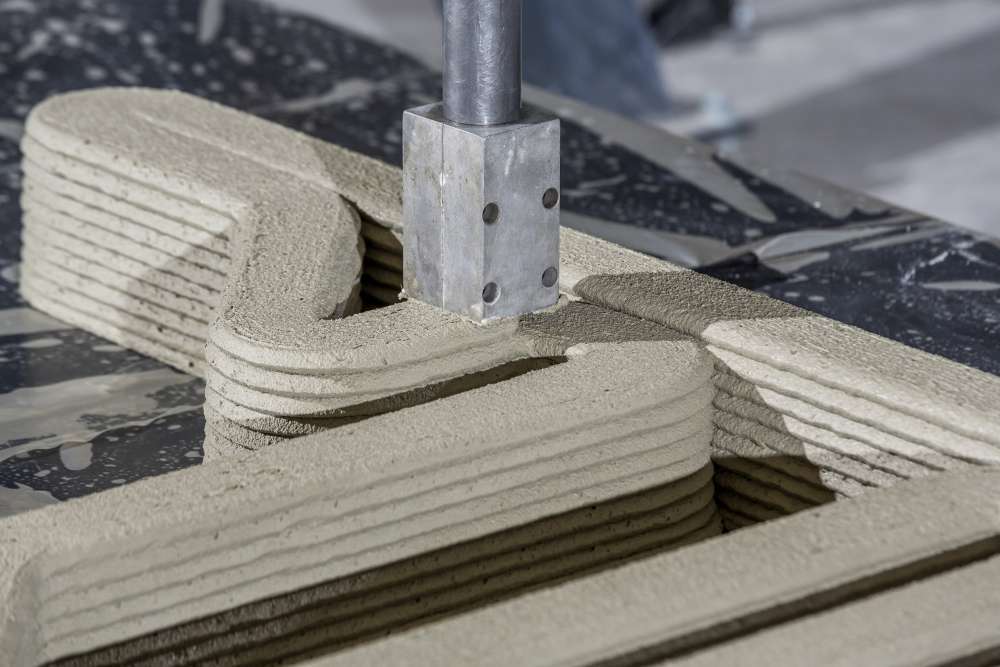 3D printed houses around the world
Now that we've seen the potential of 3D printing in architecture and the benefits of 3D printed construction, let's check out some 3D printed homes that have pivoted the idea of ​​housing technology around the world.
Here is an insightful list:
1. Bioplastic micro-house
This marvelous cabin structure designed by DUS Architects uses sustainable bioplastics and is located in the Netherlands. Bioplastic used as the base material to print and build this 8 meter square meter. Microcabin, a form of additive manufacturing typically used in home 3D printers, to create its geometric walls. Bioplastic can be easily recycled and reprinted over and over again. Using this method makes this project environmentally friendly in the truest sense of the word. The use of black material gives this micro cabin a customizable and ornamental facade. This state-of-the-art design shows how it is strategically conceptualized to induce form optimization.
Additionally, the bioplastic makes the microcabin naturally insulated, eliminating the need for mechanical ventilation. It also highlights innovation in materiality and energy consumption. The modular interiors also feature a lavish 3D-printed bathtub, while the porch and concrete steps open the cabin to the park. Thus, creating an aesthetic transition between the built and the unbuilt.
2. Tecla
In collaboration with 3D printing specialists WASP, Italian studio Mario Cucinella Architects developed this low-carbon housing prototype, which bears the name Tecla. A spatial enclosure formed by two connected domes with a total area of ​​about 60 square meters. The large skylight at the top of each dome allows light to enter the space from above, making the space naturally well lit.
The combination of modern technology, locally sourced clay as a building material, and the multi-level 3D printer presents the intersection of functionality and aesthetics.
3. Two-storey detached house
The two-storey detached house is the very first 3D-printed house in Germany. It has a two-story structure with approximately 860 square feet of living space per floor. This project is built using the 3D printer called BOD2. It was launched by the Danish manufacturer COBOD. The main feature of this machine is that it makes it easy to add pipes and other internal building service components while the print is in progress. Plus, it can print up to 10 square feet of double-skin wall in just 5 minutes.
Find out more What is concrete 3D printing?
4. Project Milestone
Conceived as part of a design development that aims to be the world's first 3D printed rental property, this structure became the first 3D printed inhabited house in Europe.
This rock-shaped house designed by Studio Houben & Van Mierlo. It was developed as part of a research project with Eindhoven University of Technology. The whole construction process was a new learning experience, expanding the knowledge around the production of 3D printed houses.
5. Gaia
Printed using a mixture of local soil, chopped straw and rice husks obtained from rice waste production. This 30 square meter house is located in Italy and was built by WASP.
A unique fusion of 3D printing technology and the traditional construction method can be seen here, where structural walls are printed from the ground up. At the same time, the cavities are filled with rice waste for better insulation. Rice Husks are also used indoors to cover the walls and ceiling of the house as a form of natural plaster.
This inspiring design proves that agricultural waste could become a major resource for construction and 3D printing, making this process sustainable.
6. East 17th Street Residences
East 17th Street residences are designed to withstand extreme weather conditions in the United States.
The construction was completed in 7 days. This includes a configuration of two, three and four bedroom residences. So far, these cement-based houses have withstood a 7.4 magnitude earthquake and severe winter storms. This shows how reliable 3D printing construction is and can withstand environmental disasters.
7. Casa Covina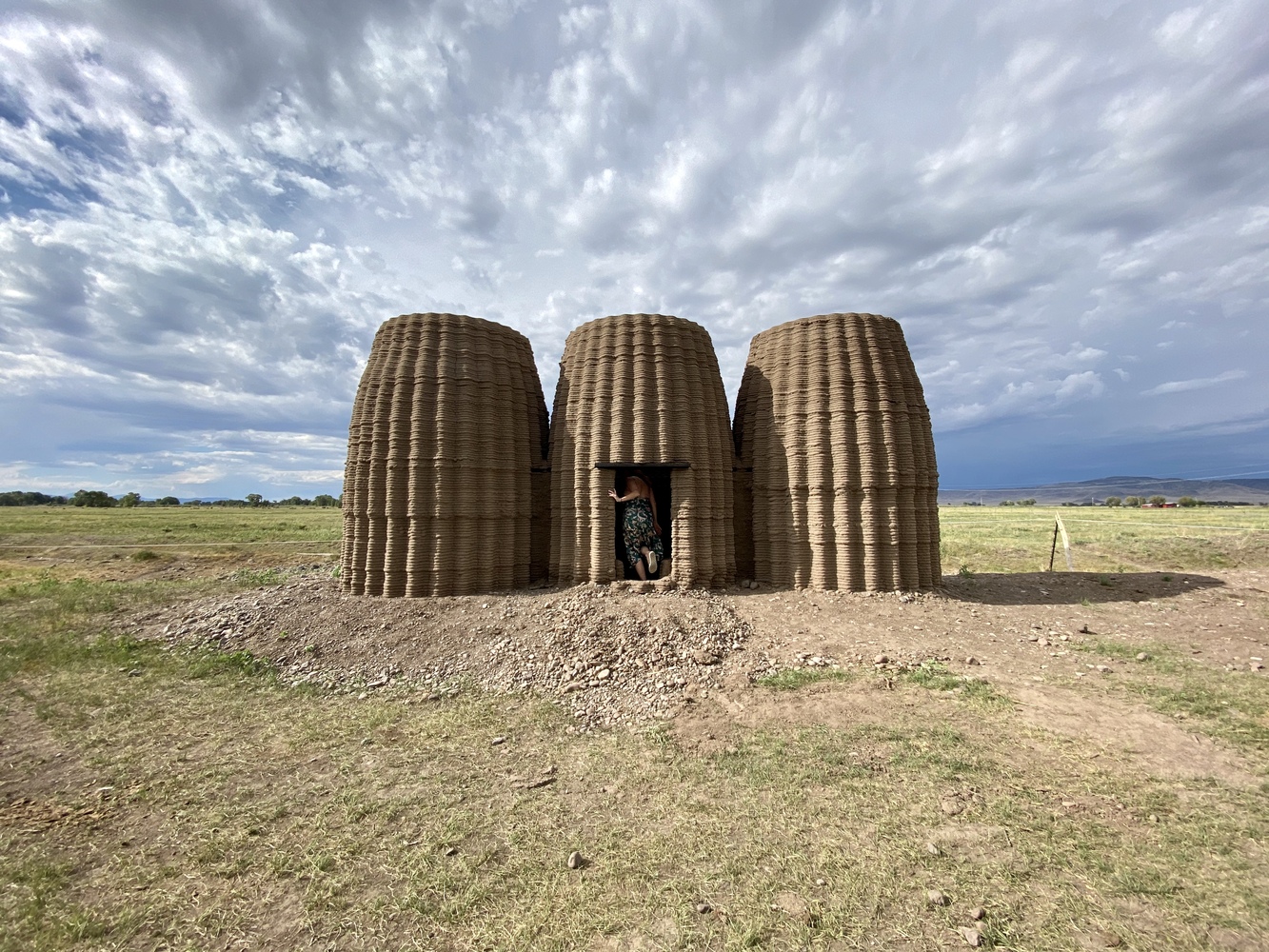 Casa Covina was conceived as a design experience in the San Luis Valley. The structure is formed by the interconnection of three cylindrical volumes or vaulted structures.
The hut was conceptualized to facilitate the coexistence of two people given the social distancing and isolation requirements related to the coronavirus. The adobe walls of Casa Covina are built with sand, silt, clay and water. The structure is printed using a three-axis selective conformance articulated robotic arm.
The highlight here is an inflatable pink roof that can be erected if it rains or snows. This excellent example of combining modern and ancient technologies to create sustainable living solutions.
8. Two-storey house, Belgium
This two-storey house in Belgium is one of the first one-piece 3D printed houses. Located in Westerlo, this house is eight meters high and has an area of ​​90 square meters. The structure exhibits the increased potential of 3D printing technology.
Conceived as a low energy house, the design incorporates energy efficient provisions such as ceiling and floor heating, solar panels and a heat pump.
9. PassivDom House
PassivDom House is probably one of the most durable and energy efficient 3D printed houses. The whole house is designed to harness solar energy. Whereas, from the moisture in the air, the generation of water is accomplished. This acts as an add-on facility. Built using a huge 3D printer in a factory in Nevada, PassivDom House is a perfect example of futuristic housing.
In addition, to clean and recycle water, the bathroom is designed under the sign of technology. Designed to use as few resources as possible, the house is "off the grid" in the truest sense of the word.
10. Curve call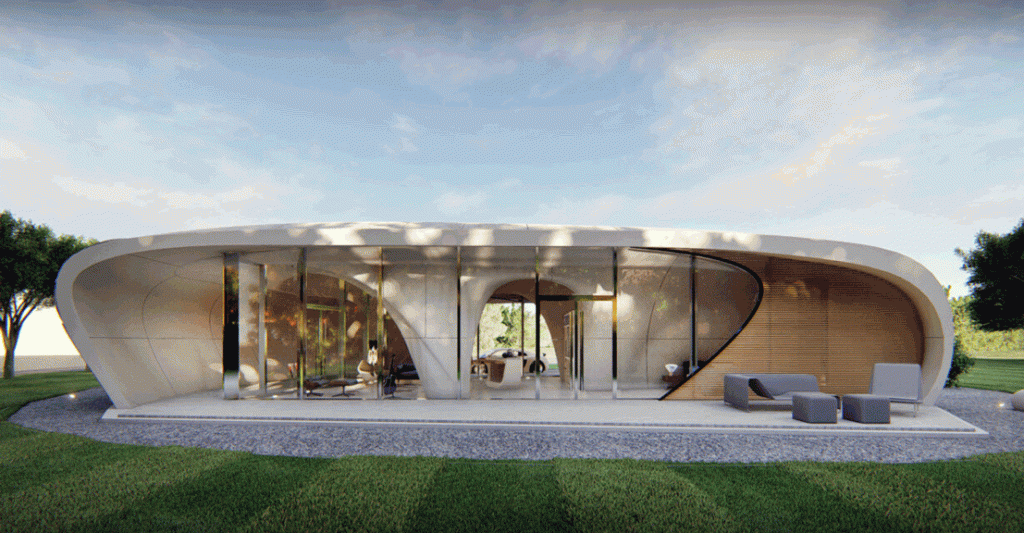 Curve Appeal is a dynamic 3D printed house built from 3D printed plastic, carbon fiber panels and glazed walls. The flowing shapes and parametric facade instill in this structure images that are incredibly bold compared to other 3D printed homes around the world. WATG is designing this 1,000 square foot residence. This structure printed using Branch Tecnchology's freeform process is the first of its kind. The dynamic curved facade is aesthetically pleasing and designed with optimal structural stability. The glazed facade lets light into the interiors, making the space naturally lit. Moreover, the use of glass as a façade also induces an impression of transparency, merging the interior with the exterior. The whole structure is known for its net zero energy.
Revolutionary groundbreaking construction techniques combined with innovative technologies such as solar sculpture and passive mechanical systems thus make Curve Appeal futuristic in the truest sense of the word.